Wow what a fantastic Sports Day! Many thanks to a wonderful crowd cheering on all participants from both classes and in all races. More photos to come next week!
All about learning in Badger Class...
W/b 8th May
Literacy: We have been working on recalling the rules for writing, and structuring the words we use- writing left to write and underneath in lines, not putting words wherever there is space, using full stops and capital letters as well as spaces between words.
Numeracy: We have been working on recognising, making and writing numbers beyond 20 to 100.
W/b 2nd May... (Bank Holiday Monday and Polling Station day off on Thursday)
W/b 24th April
Literacy- We hope you all found your child's phonics assessments in their home learning books for your reference on what sounds your child needs additional support reading and writing. Following our phonics assessments last week, we found that after the Easter holidays several children were struggling to remember the digraphs ng and nk. So in addition to the home-learning set based on these sounds we will be focusing on reading and applying these this week too. Children who already have a secure phonic knowledge will continue to be supported in exploring different forms of extended writing.
We were so impressed with some of the extended writing children worked on at home about imagined worlds. Keep on finding different reasons to write!
Numeracy- We will be reviewing ordering numbers to 20 as well as teach about sharing out objects including remainders.
We had fun sharing blueberries and pasta. We reviewed how to share equally giving one thing out at a time 1 for you 1 for me, 2 for you 2 for me etc. We counted out the berries and pasta before writing down how many we had each. We learnt that some things could be cut in half to share if needed- but if we had any blueberries or pasta left we put them in a pot so each partner had the same number.
Miss Emerson bought blueberries for us to try because no-one knew what colour they were on the inside! Some children managed to share out more than 20 items each equally! Wow!
Welcome back- Summer Term
W/b 19th April
Literacy- This half term we will be focusing on supporting as many children as possible to reach the expected outcomes for the Early Learning Goals. In phonics the goals are:
ELG Writing : They also write some irregular common words. They write simple sentences which can be read by themselves and others. Some words are spelt correctly and others are phonetically plausible.
ELG Reading Children read and understand simple sentences. They use phonic knowledge to decode regular words and read them aloud accurately. They also read some common irregular words.
Numeracy- This half term we will be working on different learning objectives each day instead of spending a whole week exploring a theme to best boost knowledge and understanding before assessment on the Early Learning Goals. The Early Learning Goals for Maths are split into two strands, Number and Shape, space and measure.
Numbers: Children count reliably with numbers from one to 20, place them in order and say which number is one more or one less than a given number. Using quantities and objects, they add and subtract two single-digit numbers and count on or back to find the answer. They solve problems, including doubling, halving and sharing.
Space, shape and measure: Children use everyday language to talk about size, weight, capacity, position, distance, time and money to compare quantities and objects and to solve problems. They recognise, create and describe patterns. They explore characteristics of everyday objects and shapes and use mathematical language to describe them.
The children really enjoyed doing ladybird sums adding the spots on wings this week and it has been lovely to see some children already replicating this style of adding in Child Initiated Learning time.
Thank you very much to Bella's Mummy and Daddy for the donation of this big dolls playhouse to Badger Class. The children were really excited to play with something new and have been really good using timers to take turns.
W/b 27th March 2017- Last week of term
We will be finishing off our collaborative artwork of a lionfish and other creatures - painting tissue paper for collage like the artist Eric Carle as well as learning about Easter traditions and making cards. Look out for a letter about SkoolBo including login details for the website to support reading and maths skills- this is something encouraged in year one as additional home learning especially and the details and scores of those logging on will be tracked by class teachers.
Literacy: We will finish teaching of the remaining set 2 sounds- ay, ee, igh, ow, oo, oo, ar, or, air, ir, ou, oy.
new sounds: ou- shout it out
oy- toy for a boy
Numeracy: We will be revisiting children's ability to use teen numbers and record sums as part of our end of term assessments.
Don't forget: Due to our School trip to the theatre on Friday 24th March Children must come to school in full uniform even though it is Red-nose Day, they can still wear a nose to school for the morning if they wish.
W/b 20th March 2017
Enrichment week: Story-makers , the work of Eric Carle.
Badger class will be working on the story Mister Seahorse. We will be focusing on learning a bout wonderful marine wildlife facts and exploring the art style of Eric Carle using tissue paper and paint as well as making large collages to display in the corridor or classroom. #
Literacy: ay, ee, igh, ow, oo, oo, ar, or, air, ir, ou, oy.
new sound ir - as in whirl and twirl
In the mornings we will use the book Mister Seahorse as a focus for our writing.
Seahorses are very interesting creatures and we had fun learning lots about them. Did you know...
Seahorses are fish.
There are up to 50 species of seahorses.
Seahorses prefer to swim in pairs with their tails linked together.
Seahorses only live in warm water, in sea-grass beds, near mangrove tree roots or coral reefs.
Seahorses have 4 fins, they move very slowly.
Male seahorses only live in a metre area their whole lives.
The Male/ daddy seahorse carries the eggs in a pouch. There are nearly 1500 eggs but only about 15 babies survive.
Seahorses are eaten by birds, crabs and sharks.
Some seahorses can change colour to camouflage with their surroundings.
Seahorses have a long neck and swim upright, they are actually quite small only 1-35cm long.
Seahorses have no teeth and no stomach.
Food passes through their digestive systems so quickly, they must eat almost constantly to stay alive.
They can consume 3,000 or more shrimp per day.
On Friday we have our trip to Hertford theatre to see a collection of Eric Carle's stories on stage! Please collect from school at 15:30
W/b 13th March 2017
Numeracy: Using manipulatives in different ways. Using unifix cubes for sorting, to make patterns, and for adding and subtracting to encourage more numeracy skills during Child initiated learning.
Literacy:
We are continuing to learn one new sound a week from the RWI scheme in the order: ay, ee, igh, ow, oo, oo, ar, or, air, ir, ou, oy.
This week we will be learning the air sound as in 'That's not fair'.
Writing targets at this time of year:
-using spaces between words when writing sentences
-using just a dot not a large circle for full stops and the letter 'i'
-writing on the line
- using fullstops
- Sounding out for writing
After marking children's home learning again it is clear that not many parents still do not understand what is meant by sounding out for writing. Please ask the class teacher if you would like to be shown how to support your child to do this.
Phonetic sounding out for writing means the words children write would not resemble the spellings adults know or be based on letters on the alphabet- the spellings must use the sounds the children have been taught!
You may need to support your child if they are not able to do this independently yet by breaking down the word into sounds- not saying letters of the alphabet. The sounds the children have been taught so far should enable them to have a go at writing any given word.
Here are examples of spellings appropriate for Reception age children :
The word because would look like b-ee-c-o-z, beecoz not bcos.
The word cheese, would look like ch-ee-z, cheez.
The word pretty, would look like p-r-i-t-ee, pritee.
The word phone would look like f-ow-n, fown.
The word beautiful would look like b-y-oo-t-i-f-l, byootifl.
Children will not be able to write independently unless they can break down the sounds in words like this.
All children should be applying tricky words such as the, was, like, love, is into their writing, if they can't remember how to write them then sounding out is ok. As the year progresses we add in further sight words for children who are able to read by sight. Children are also shown correct spellings in addition to phonetically plausible spellings during Phonics lessons and further rules are explained to those who are able to take them on board such as although it sounds like a 'z' at the end it is usually an 's'.
3rd March: For World Book Day we all came to school in our PJs or onesies! Year 3 Oak class came to visit in the morning and read us each a story which was special. After lunch we listened to classic fairy-tales and had hot chocolate too!
We started working on designing characters and a background for a pop- up book which we are all going to get to make over the next fortnight!
Spring term 2017
W/b 6th March 2017
Numeracy: Introduction to clocks and telling the time
Where can clocks be found? Difference between digital and analogue clocks, how many seconds in a minute, how many minutes in an hour?
Identifying what the hands on a clock represent, how they move. Identifying half past and 0'clock.
Literacy: Every day in phonics all children have the opportunity to read, write and apply what they know. We typically will use whiteboards everyday for writing before moving on to other activities.
We are continuing to learn one new sound a week from the RWI scheme in the order: ay, ee, igh, ow, oo, oo, ar, or, air, ir, ou, oy.
This week we will be learning the or sound as in 'shut the door'.
W/b 27th February 2017
Numeracy: This week we are commencing a two week unit on time- considering the language of days of the week, yesterday, tomorrow, today, the weekend as well as begin to use stopwatches and recognise the difference in the elapsing of seconds minutes and hours. Next week we will be working with clocks for the first time, matching digital and analogue times telling the time for 0'clock and half past.
Literacy: We are continuing to learn one new sound a week from the RWI scheme in the order: ay, ee, igh, ow, oo, oo, ar, or, air, ir, ou, oy.
This week we are learning the

ar

sound as in

'start the car'.

The teacher will show the children a range of words using the ar sound : park, start, sharp, car,

Which we will spot the sound in, read and then write in a list. Then the teacher will sound outa sentence for the children to write, before encouraging them to sound out themselves or design their own sentences using a given word if they are more able.
We are working hard on boosting tricky word recall.
You should find a score written in your child's reading record and a copy of the assessment in their learning journeys. They are hard to learn. There are a couple of children who can already read over 40/42 words.

All children with a score between 0-and 7 will receive extra help at school but we would like to remind you of the importance of incorporating reading and writing tricky words daily to boost your child's knowledge.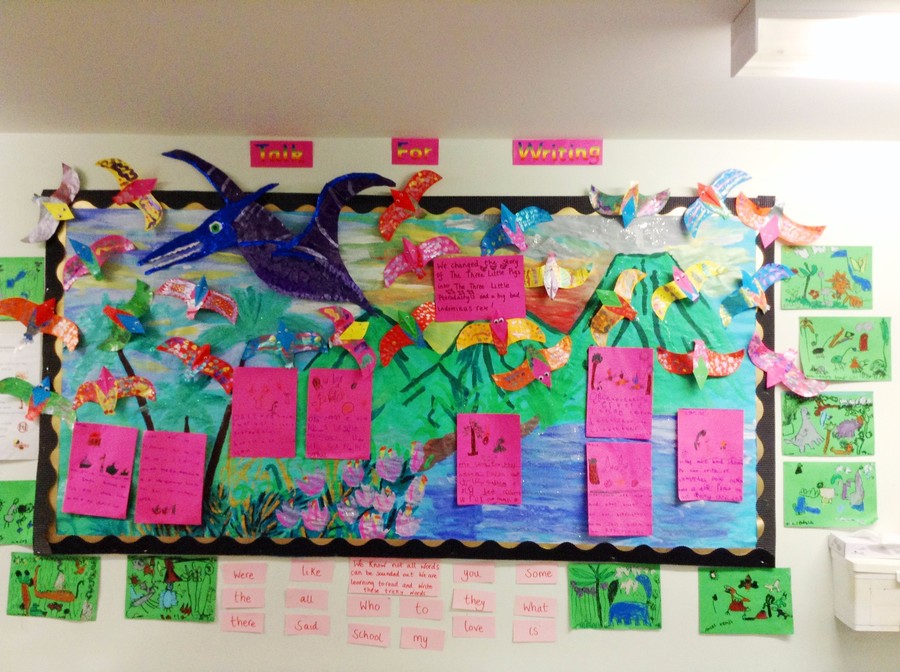 W/b 20th February 2017
Numeracy: This week we reviewed the use of concrete resources- unifix, numicon and bead strings.
Literacy: We are continuing to learn one new sound a week from the WI scheme in the order: ay, ee, igh, ow, oo, oo, ar, or, air, ir, ou, oy.
This week we learnt oo as in 'look at a book' as well as oo for ' poo at the zoo' as they look the same.
We completed our Talk for Writing project work on our adapted story from the Three Little Pigs- The three little pterodactyls, so you will see lots of lovely dinosaur art work and writing displayed in the classroom as well as in learning journeys.
Here are some examples of the lovely dioramas we made for our home-learning project over half-term ...
Thank you everyone for your donations towards our Chinese New Year Celebration. The children had so much fun. We bought themed red and gold party-ware to suit the occasion and food from a take-away.
For the food spread the children were able to choose from: noodles, egg fried rice, prawn crackers, spring rolls, fried chicken, beansprouts, bamboo shoots and water chestnuts and other vegetables. Some children chose to try everything while others just wanted a little.
Instead of a traditional PE lesson we used our hall slot to do a dragon dance and play instruments.
We will be continuing to learn about Chinese New Year next week too, making more crafts!
It was so exciting when we saw snow during our PE lesson!
9th January- This week in Badger class ...
Phonics: This week we will be mainly focusing on recognising tricky or sight words before later in the term assessing children's recall of these words which cannot be sounded out. Refer to tricky word card distributed before Christmas for children to keep practising at home everyday.
Numeracy: This week we will be learning about money. We will teach children to identify coins by their colour shape size and value, where money comes from, about the value of items, to use money language and to write £ pounds and p pence.
Other: Don't forget to return/ wash PE kits for our first PE session of the year this Friday. PE will be indoors.
A new staff member, Mrs Bates has been employed to work in both Reception classes and will be working in Badger class for half of each day. The increased ratio is to help us to provide extra support to children requiring greater 1:1 time and booster groups as the curriculum requirements increase. Please continue to always refer to class teacher in the mornings and afternoons to discuss any issues and learning.