Welcome to the Reception Squirrel Class Page.
Here you will find updates and photos of learning in the Squirrel Class.
DIWALI
This week we have been learning about the Hindu Festival of Light called Diwali. We made 'diva' lamps, decorated our hand print with a Mehndi pattern and coloured our own Rangoli patterns.
Please don't forget to check in your child's book bag regularly. A number of children have not yet had recorded that they have read at home whilst others have yet to complete the home learning.
Week beginning 16th October...
Phonics: We will be teaching the vowel sounds i, u and e this week in order for children to begin to be able to read and write a wider variety of words.
We will also introduce the children to 'tricky' words, which cannot be sounded out and have to be recognised by sight such as- I, the, to. The acquisition of these words will support children to begin to be able to read and write sentences instead of just individual words.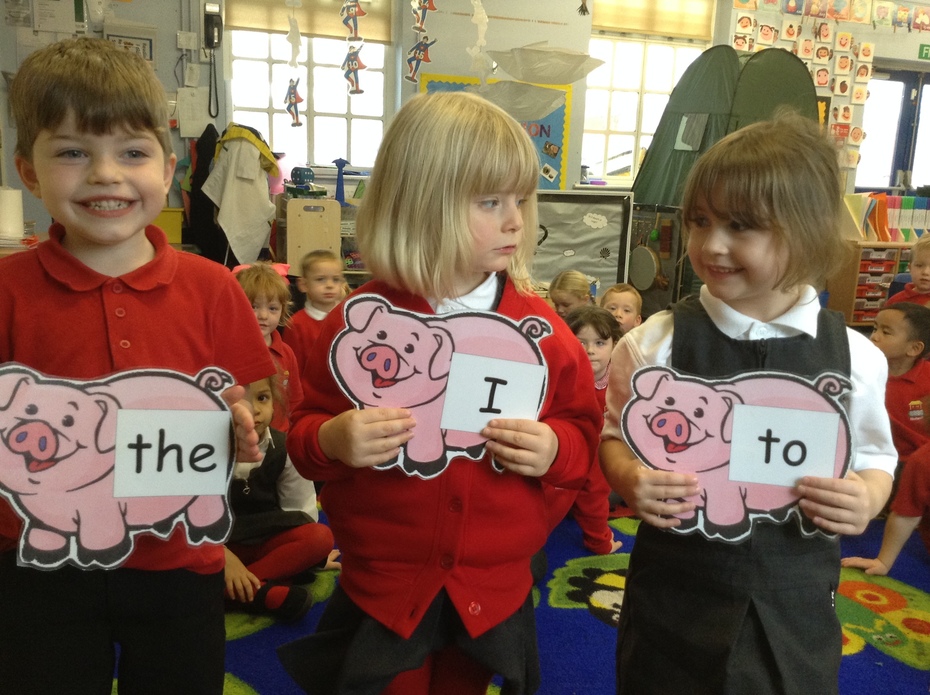 Topic: We will be continuing with our Autumn exploration as well as gathering different kind of leaves to make lovely art work with, we will also be learning about Diwali, which is this week.
Numeracy: We will be focusing on developing our confidence with counting and 1:1 correspondence counting strategies, such as lining up items or putting items into a pile as they are counted.
We love working together in Squirrel class. This week we have been working on a large scale collaborative art project. We had made a 6 ft Squirrel from leaves!! The children are so very excited to see it take pride of place on the wall at the back of the classroom. Have a look next time you are in.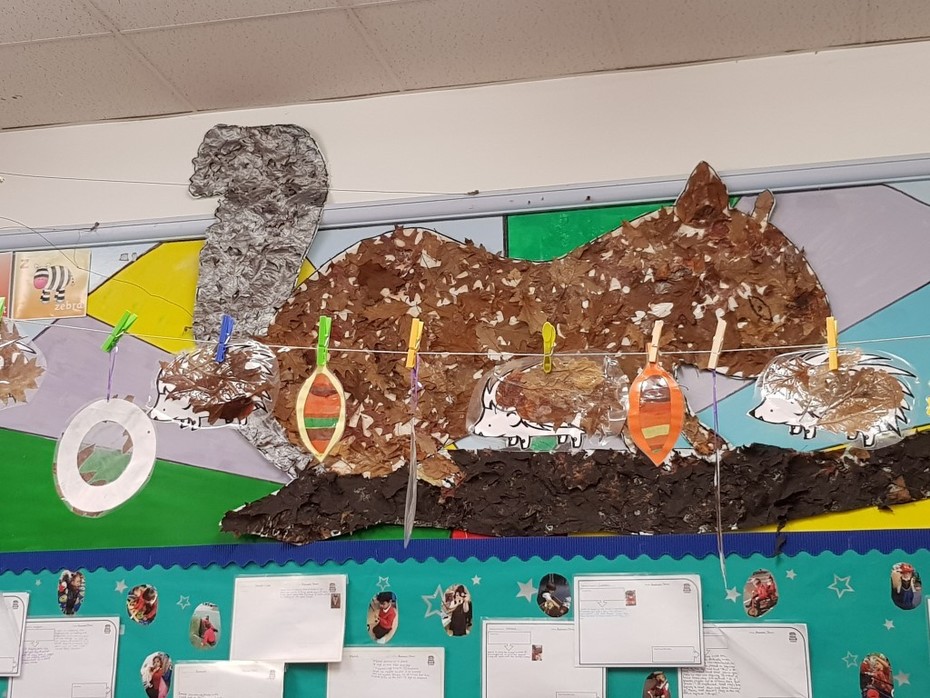 We have been looking at how we can use the Autumn leaves during our maths small group time. Today we looked at different ways we can sort leaves. Here is a photo of the leaves sorted by type / shape.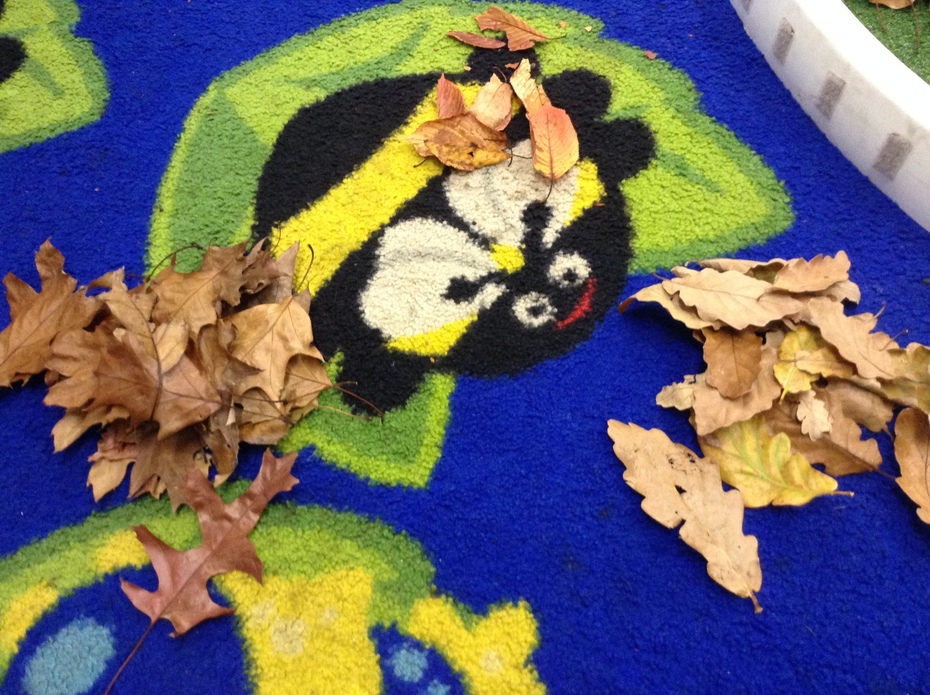 It was lovely to see a Squirrel child trying so hard at home with his letter formation. His mum was very proud!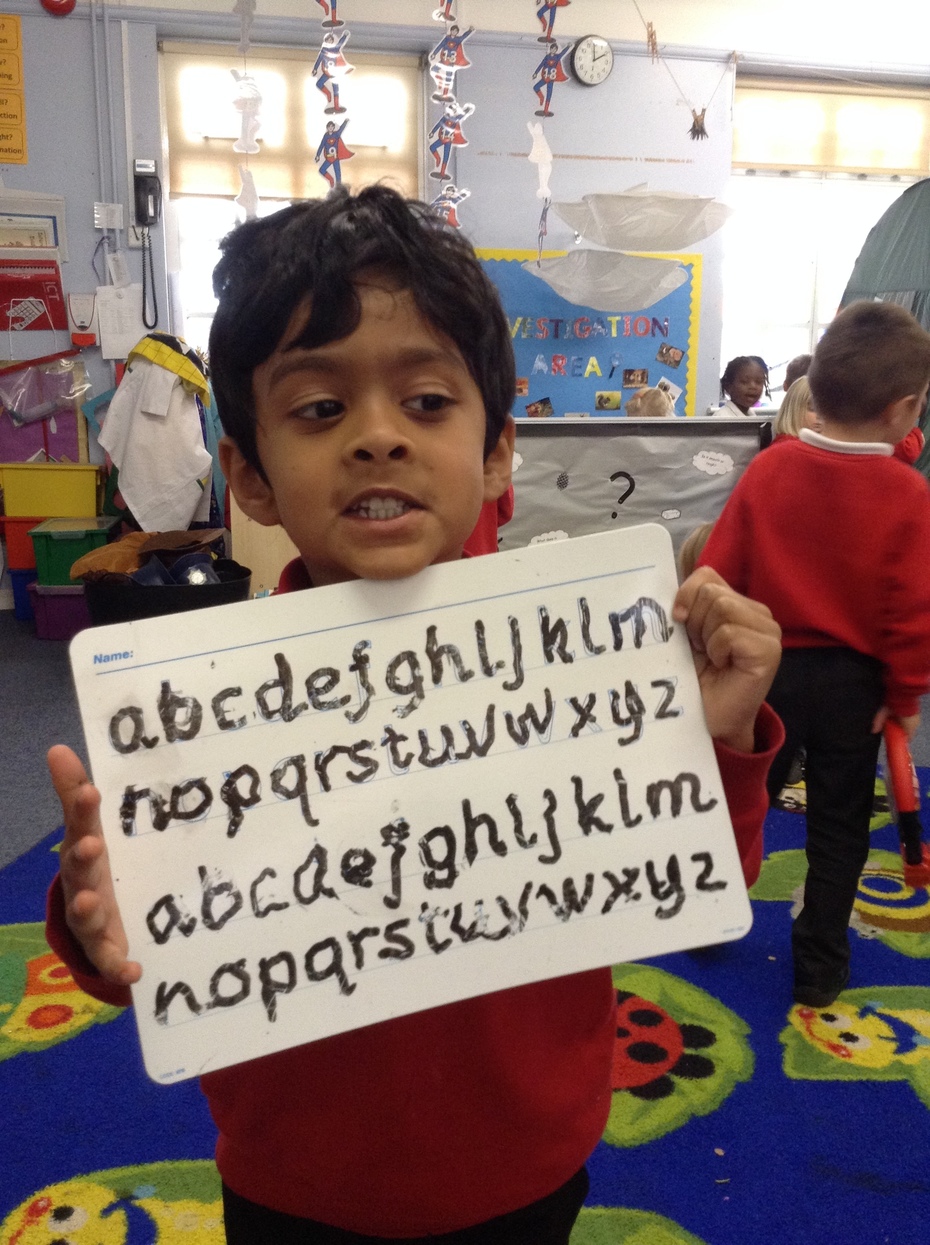 Wow! What a fantastic trip to Paradise Wildlife Park.
The children were all very well behaved and were a credit to the school. Well done.
We have been thinking about Autumn and have begun to show our expressive side using collected leaves. Be sure to look at our amazing creations the next time you are in. Also have a look at our six foot squirrel made from leaves! The children all contributed to this marvellous creation.
We are beginning to focus on counting accurately and ordering numbers 1 - 10. Some children are finding this difficult. You can help at home by getting your child to count dried pasta or similar. Some of us used peg boards to show each number, some wrote the number on a white board whilst others made a hopscotch.
We love dressing up! We choose our favourite costumes and pretended to be that character. Can you guess who we are?
Thank you to the parents who have come in during the first 15 minutes of each morning. Don't forget to get involved in what they are doing and celebrate work they have completed. You are more than welcome to look through your child's special book during this time. Please talk to one of the Squirrel staff about this the next time you are in. Don't forget this invitation is open to you on the same allotted day each week. We can sometimes rearrange this day if you are unable to make one day.
Below is a video that shows you how all sounds we will be learning are to be pronounced. It features a five year old girl who has learnt all the sounds.
Holwell Primary is not responsible for the content on external websites
===========================================================================
The children have largely independently painted a self portrait. Some could achieve this on their own and some needed a lot support. You can practise drawing and painting pictures at home. This representational drawing is quite difficult to do and needs guidance at first. The children all love their paintings!
+++++++++++++++++++++++++++++++++++++++++++++++++++++++++++++++++
The children drew pictures of their family and told us who was important to them. They tried to include detail in their drawings. You can help them at home by modelling to them how to draw a person. Get your child to draw somebody and then guide them on how they can improve. Ask them to draw a circle for the body, a smaller one for the head, give the person arms and legs, eyes, ears, nose, hair etc. You could talk to them about the parts of the human body both inside and out.
////////////////////////////////////////////////////////////////////
We have begun to learn some of the routines that will help us to make the most of learning we do as a whole class. We also began to learn two songs as a class. The songs are below. They are called "Spotty Socks" and "Under My Skin". Can your child remember any of the words or actions?
Starting School Essentials
What to bring:
A refillable sipping-top bottle that will not spill fully if knocked over, containing only water.
A bookbag for pictures, home-learning and letters to be transported in and later the reading record and reading book.
A pair of wellies for outdoor play when rainy or if we go to the wildlife area ideally that can be left at school.
A snacksize portion of fruit/ veg to be eaten at snack-time if you think your child will not like the one choice of fruit a day provided by the government.
Any medication/ Epipens to be used at school must be taken to the school office in the issued packaging complete with pharmacy label and forms for dosage filled out before they can be given to your child.
When full-time school commences children are invited to bring in a show and tell item (such as a photo/ medal/ leaflet from an outing) which will fit into their drawer to present to the class or a small group on their colour day. Your child will find out the colour group they are in when they arrive. Please remember which colour group they are in for future reference.
| | | | | |
| --- | --- | --- | --- | --- |
| Monday | Tuesday | Wednesday | Thursday | Friday |
| Red | Yellow | Green | Blue | Purple |
Home-School Exchange- What you can do
The Home- school exchange about your child's learning is very important at this stage in your child's development. Please keep us updated on the latest medical information, worries or struggles your child encounters at home as we will inform you should they arise.
We also love to celebrate achievements. We invite you to share any 'magical moments' for us to print out to add to your child's learning journey by email. Please title your email with: Name of child - Magical moment and send to squirrels@holwell.herts.sch.uk Please note this email address is only set up for the receipt of magical moments and will not be replied to for any other issues.
A magical moment may include photos and are significant achievements or skills you have observed your child do, or may sometimes include special events or outings. Useful magical moments could be based on- imaginative play, your child's observations of the natural world on an outing, solving problems, their physical development, sporting talent or challenges overcome- dressing themselves, reading or writing for example. Please write about what you observed and what your child said that was significant. We cannot use photos without descriptions. We ask that you send in one magical moment every half term, we also have paper templates for magical moments available at school if you would prefer to hand-write them. When we receive them we ask if the child would like us to share their achievements with the class, and the children really love to show their friends their magical moment photos when printed out or on the Interactive Whiteboard screen.