Week beginning 15th May
Literacy: This half term we are looking at writing instruction texts. You can see our text map further down this page. This week we will be writing our own sets of instructions based on the structure we have learnt about.
Maths: This week we are going to practise investigate the effect of adding and subtracting zero, ten and multiples of 10. We will also practise repeated addition problems.
Topic: We are learning about 'Life on the High Seas'. This week we will look at Luis Nino's painting called 'The Virgin of the Victory of Malaga'. We will find out what happened to this picture in the past (clue: it used to be bigger!) and use our imaginations to create our own art using a range of paints.
PE: This half term we are learning to use different equipment to control a ball. We will learn some basic tennis, cricket and rounders skills.
Computing: This half term we are learning about data and information handling. Using the story of 'Handa's Surprise' by Eileen Browne we will explore different ways of capturing and organising information using ICT.
Phonics: This term's focus for each group is...
Ants - Begin to read words containing ay, ai, ee, igh and ow.
Ladybirds - To read and write words containing more than 3 sounds e.g. Sting, flop.
Moths - To secure the set 2 sounds ow, igh and oa. To read and write words containing ar, or, ur, ear, air, ure and oi.
Beetles - To secure three letter phonic sounds (air, are, ure, ire) and the split diagraph sounds (a-e, e-e, i-e, o-e and u-e).
Spiders - To ensure the split diagraph sounds (a-e, e-e, i-e, o-e and u-e) are secure and explore alternative spellings of sounds and learn some spelling rules.
Beware! Dragons!
We found something very mysterious in our Wildlife area...
Luckily we knew just how to deal with our scaly visitors and the eggs and mummy dragon have been taken away safely by the Dragon Protection Team!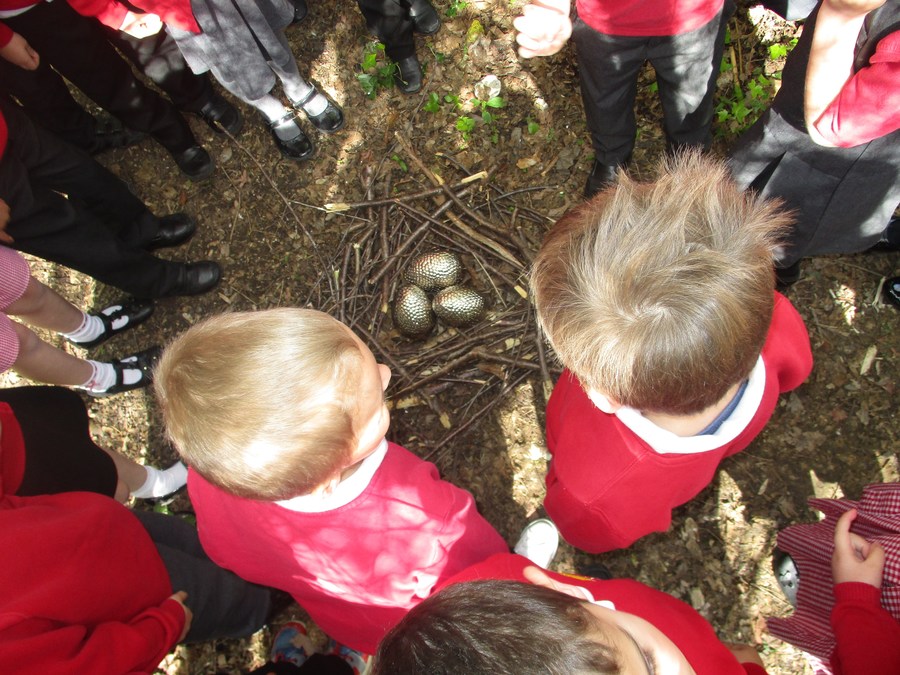 This is our text map for our instructions of 'How to trap a Dragon'. Test yourself and see how well you remember the instructions by telling it to someone at home...
Check out our Infants Skoolbo Challenge!
Which class is in the lead?