Keep an eye out for the orange letter about our first school trip in Year 2! Your child should have brought it home on 25.9.17 - please speak to the office if you have misplaced your copy.
Welcome to our page!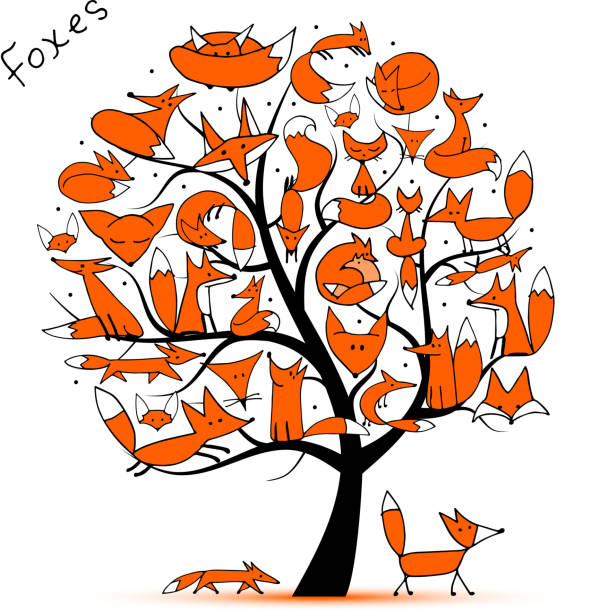 Hello and welcome to Year 2 Foxes!
We are all very excited to be starting our new school year and have already made a great start to our learning.
The Autumn term is all about getting to know each other & showing our teachers just how amazing we all are.
If you have any questions or something is worrying you, please come to see our teacher, Miss Rumsey.
We are so excited for the year ahead!
Scroll down for information about our week ahead plus some photos of our work and adventures in Year 2.
~~~
Heads up:
After the October half-term, you might notice that we are calling our teacher by a different name.
Miss Rumsey is getting married in the holidays and will become Mrs Fowler. How exciting!
Parents Evenings are coming up after half-term!
They will be on the 2nd and the 7th of November.
If you haven't yet booked an appointment online, please see the lovely ladies in the office who will be more than happy to help you!
What is coming up for Team Foxes next week?
Week commencing Monday 9th October, 2017:
In Maths we are going to be finding 1 more/less, 10 more/less and maybe even 100 more/less of different numbers! We will also be estimating and then checking our calculations. Ask us throughout the week how we are getting on and see if we can tell you what 10 more than 27 is. If you really want to challenge us, see what other numbers we can work with - maybe we could try some of the numbers past 100!
In Literacy we are learning a new text, based on our past learning about the speaking papaya! We are going to start exploring non-fiction and will have a news story to learn. We are going to be using some very fancy news reader voices - ask us to show you them at home!
In Topic we are starting a week of R.E. We are going to be thinking about different religious signs and symbols from around the world and thinking about which ones we might have already spotted around us. It is important that we remember to respect everybody's religions and thoughts, and appreciate how our differences make us interesting.
In PE we are continuing to develop our general agility skills and completing our gymnastics unit. We have PE on Tuesdays and Thursdays - please make sure we have our PE kits in school, named and on our pegs.
We will also be busy practising for our Harvest Festival, doing handwriting practice every morning, developing our comprehension skills during our daily milk & story and sharing our reading books with adults in the week. We get cleverer and cleverer every single day!
Look at how much our Literacy skills are developing.
Miss Rumsey wrote a super boring sentence for us about a little fox cub, but we worked together to help her improve it.
What do you think?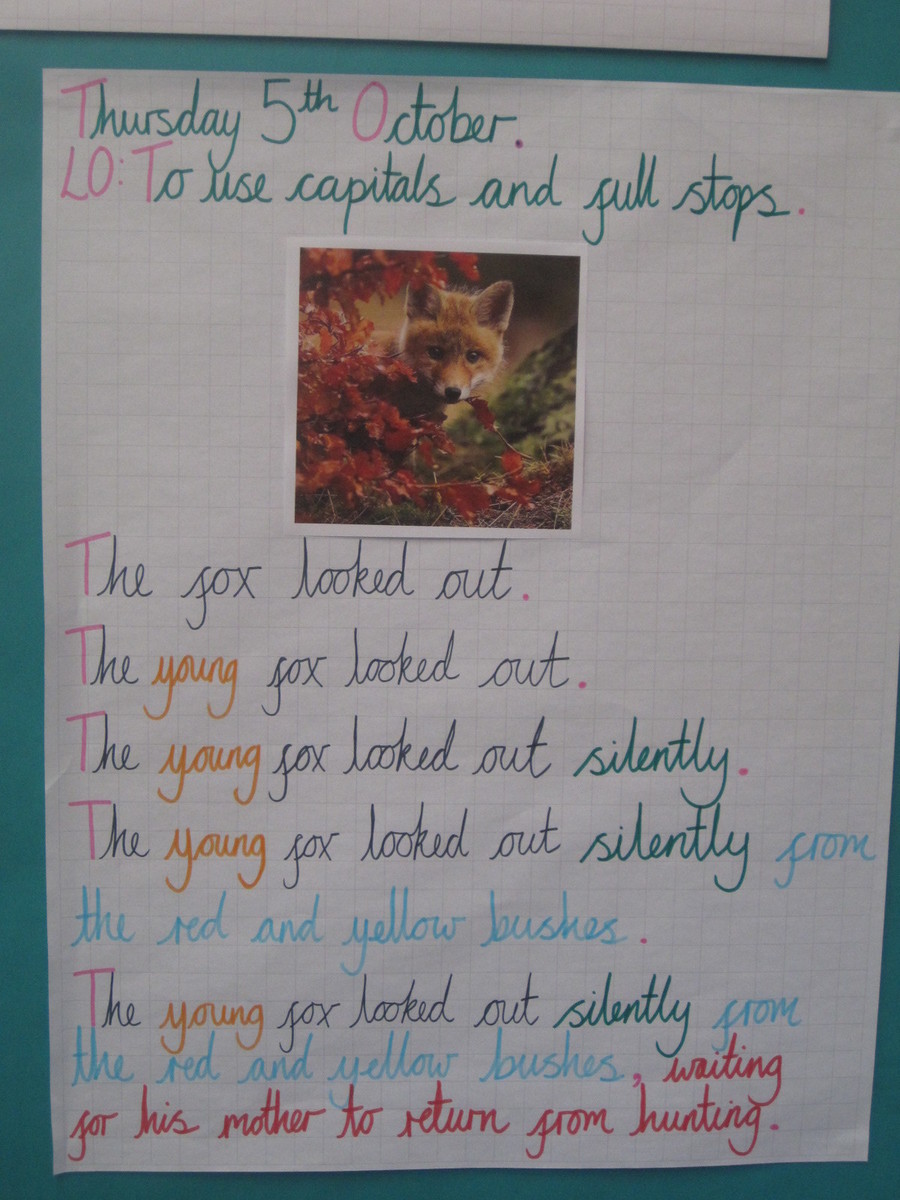 And how about this for some fantastic shared writing?!
We wrote some sentences to describe another fox and Miss Rumsey was ASTOUNDED with how big our imaginations are now!
We worked together to build our ideas up and up until they were just right.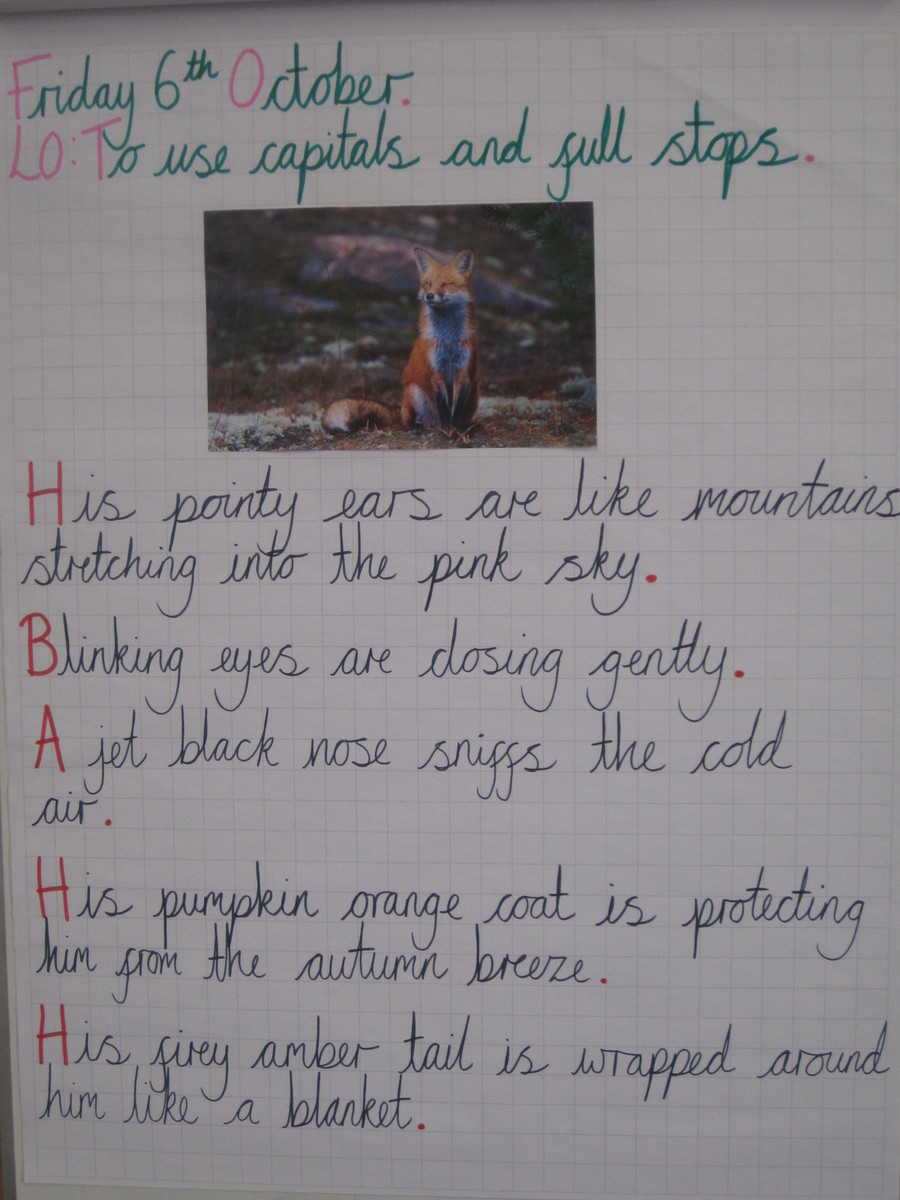 We have been getting arty ahead of our Harvest Festival.
We have made some autumn leaves to decorate the hall - we can't wait for you to see them!
Look at this AMAZING homework by our fantastic Fox, Isabelle!
It is all about her favourite animal from Africa.
Make sure your sound is turned on!
That's not the only piece of wonderful homework we have had in Year 2 Foxes.
We have had tall giraffes, collaged flags, papier mache leopards, a modelling clay elephant and even a rhino made from an old bottle!
Plus some wonderful drawings, paintings and fact files.
Miss Rumsey has been blown away - what a clever bunch of fox cubs she has!
Click on the photos below to take a peek at some of our creations.
Here are our latest curriculum leaflets - have a look at these for more information about our term ahead.