Week Nine: Monday 8th June
Hello Badgers and Squirrels!
How did you find last week? Are you back into the swing of home-learning?
Now that some of you have returned to school you will notice that there are fewer activities below and on Purple Mash. This is because the teachers are busy preparing and teaching in school as well as for home, but hopefully there is still enough to keep those of you who are staying at home for now busy. We still miss you all, and are always available if you have questions - it might just take us a little longer to answer the emails!
If you have your own super ideas that help you to explore the stories further, let us know. We love to see your creative masterpieces!
This week our story is about a very, very fast creature and a v-e-r-y, v-e-r-y s-l-o-w creature who decide to have a race...can you guess what the story might be? The children in school will also be focusing on the same story, so even though we are all apart we are still learning together.
As ever, please stay in contact with us through the class email addresses;
badgers@holwell.herts.sch.uk or squirrels@holwell.herts.sch.uk
Take care, stay safe and keep smiling,
The Reception Team
x x x x
Mrs Delaney retells the story of The Hare and the Tortoise with the help of a speedy hare and slow and steady tortoise!
Topic
What do you think the story might be teaching us this week?
The moral of this story is "slow and steady wins the race" - those who rush might make silly mistakes while those who work steadily hard win in the end. That's a bit like life right now; we all need to be slow and steady tortoises and wait for things to be safer, rather than rushing like the hare.
This week you could try...
Making a paper plate tortoise like the one in the picture. If you don't have any paper plates you could use paper or card. Stick some green tissue circles on the top or colour some in or paint some. Make some legs and a face and if you have googly eyes stick them on too! If you don't want to make a tortoise, how about making a hare's face using a paper plate and other bits and pieces you might have at home?
Drawing a picture of a fast animal and a slow animal - can you label your work? If you need to you could research the animals online to look carefully at the patterns and colours you will need to use.
Having different kinds of races with the people in your home. We are all different, just like the hare and the tortoise. Some of us may be like the tortoise and not be able to run very fast. Can you think of a race that will suit different people to give everyone a chance to win? How about a walking race? A crawling race? Or like in the story you could pretend, with another person, to be two different animals having a race. How would a mouse and a kangaroo race? How would each one move? How about a snake and a frog? Which are quick ways of moving? Which are slow? Have fun thinking of different races!
Maths
This week our maths focus is adding.
When we add we have two (or more) amounts that we put together and then we count them all to find out how many there are in total. We can record our sum as a number sentence using a + to mean add and an = which means equals. When we add amounts together the number we end up with is more.
This week we would like you to...
Watch these Numberblocks episodes: Ten Again looks at different pairs of numbers that make 10 and Balancing Bridge explores adding smaller numbers together to make teen numbers.
How many ways can you put teddies into two houses? You can use choose how many teddies you want to sort, up to 10. If you choose 5 teddies how can you sort them into two houses? How many ways can you find? You will find this activity on the topmarks site. When you have sorted the teddies the sum will appear at the top of the screen. Your grown-up may have to move up the screen to see them!
Draw 10 circles on a piece of paper. Colour one circle in. How many are not coloured in? On another piece of paper write the sum 1 + 9 = 10. Then colour in another circle. How many are coloured in now? How many are not? Remember we always have 10! Keep going until all the circles are coloured in. Have you found all the ways to make 10 using two numbers? These pairs of numbers are called number bonds.
Phonics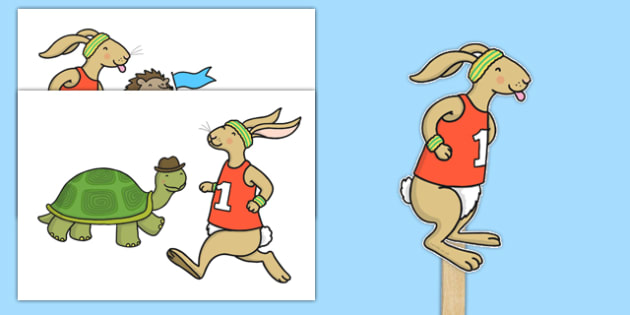 Please continue with the online phonic sessions which are an excellent way to practise and reinforce the sounds we have learnt in school. These work best if you go in order, so please do not worry about 'catching up' and just focus on one sound per day. If you haven't tried them yet there is still time. They are an excellent way to prepare for Year One.
You could make simple stick puppets of the hare and the tortoise and use them to help you retell the story.
You could also watch this Cbeebies Ballet version of the story - how is it the same as the story Mrs Delaney told and how is it different?