Welcome to the Reception Badger Class Page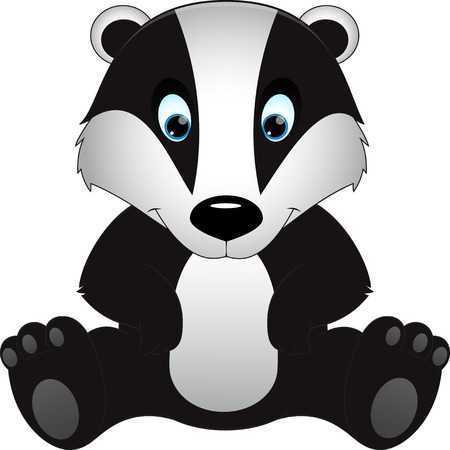 Here you will find updates and photos of learning in our Class.
World Book Day
On Friday we celebrated World Book Day! We had lots of fun in Badger class! Take a look at some of the characters we came dressed as...
Superheroes- two Supergirls, Iron Man, Wonder Woman, Spiderman, Thor, Superman and Batman...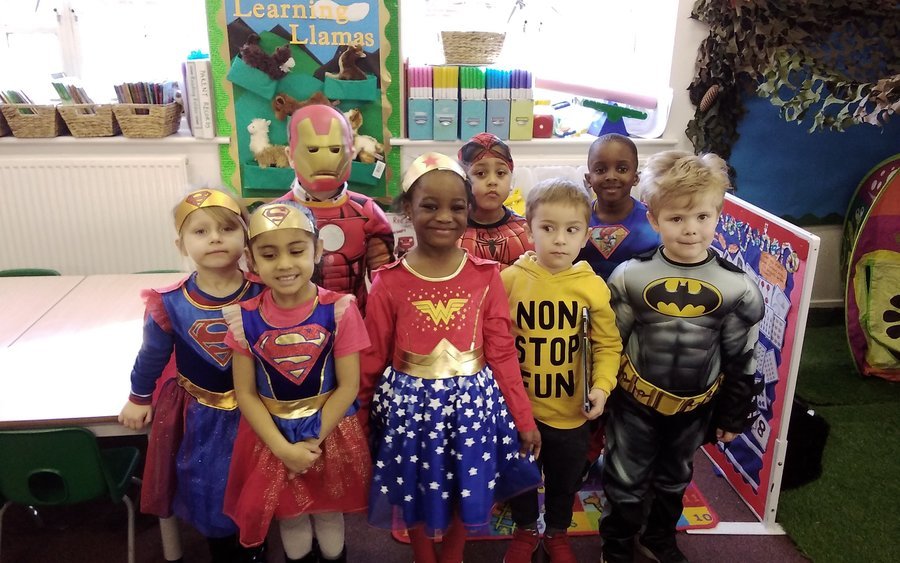 Princesses-we had Elsa from Frozen, Belle from Beauty and the Beast, Cinderella plus a few more....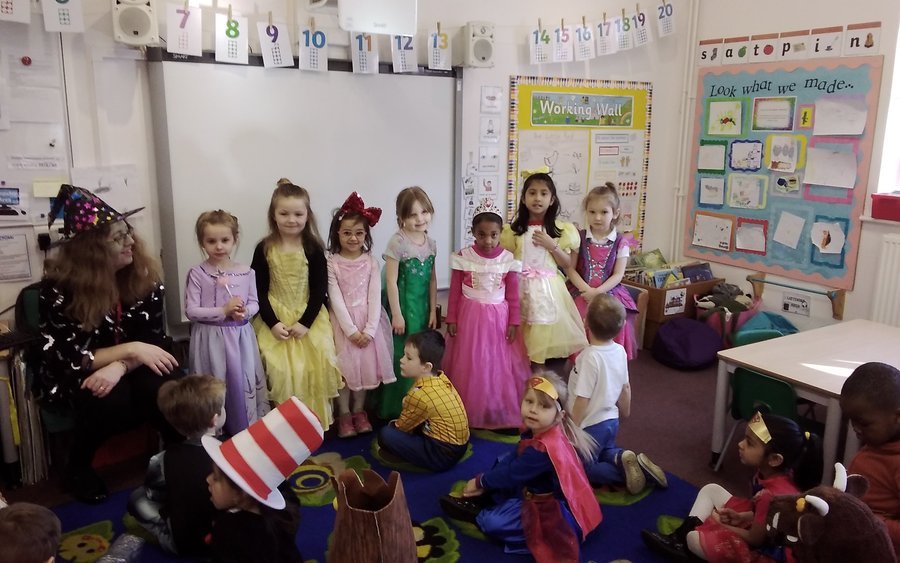 Robin Hood, Little Red Riding Hood, The Little Red Hen, The Gruffalo, Stick Man, Mr Bump and The Cat in the Hat......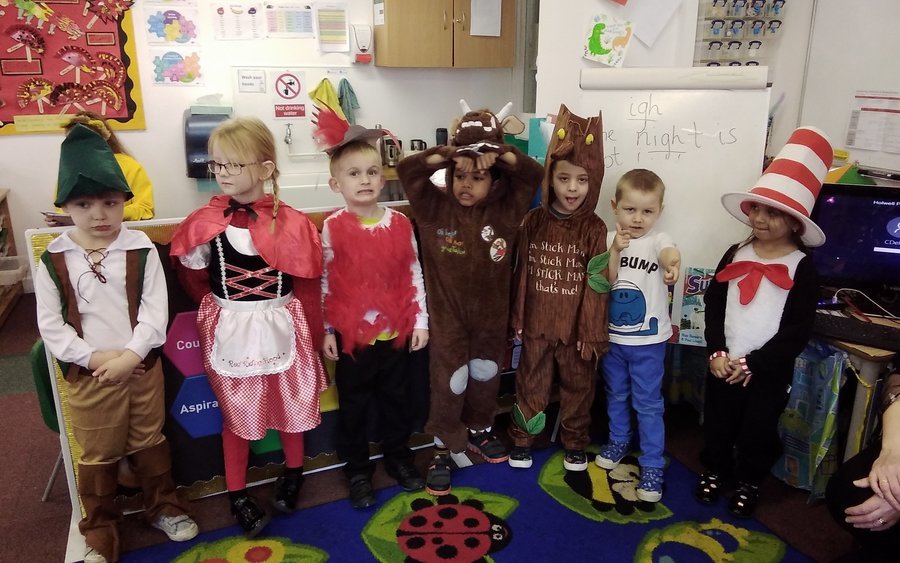 And finally- Woody from Toy Story, a pirate and a tiger! As you can see everyone looked amazing!!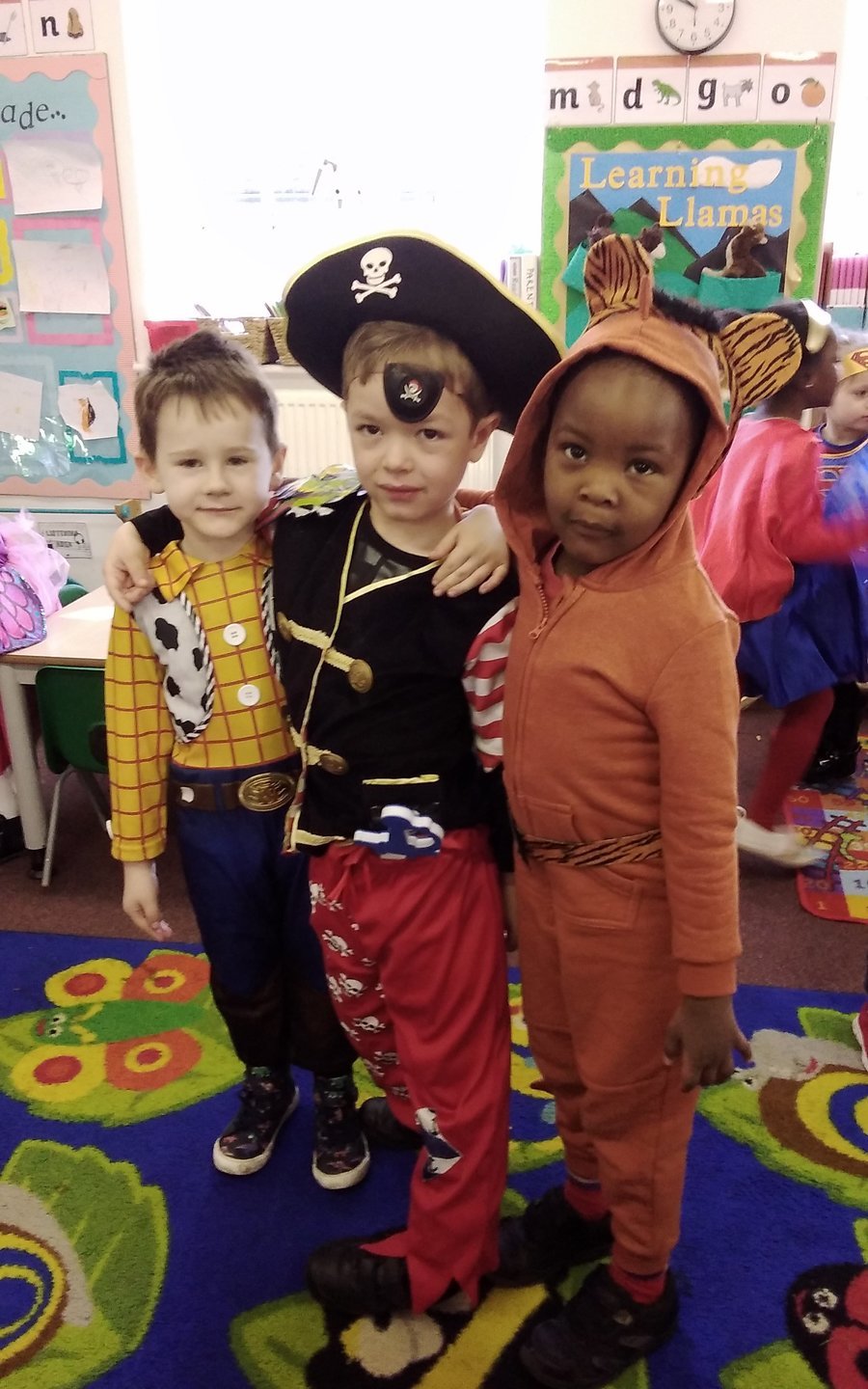 In the morning some grown-ups came in the share a favourite book with the children. All in all a great day!
Valentine's Day
We had fun celebrating Valentine's Day on the 14th February. We learnt about the story of Saint Valentine and looked at some Valentine's Day traditions such as sending cards, chocolates, flowers and other gifts to loved ones. We each decorated a heart with sequins and glitter and wrote on the back who it was for. We attached some ribbon to the top so that the person we gave it to can hang it up to show how much we love them! We talked about all the people that we love such as family and friends and talked about how to show each other kindness.
The Little Red Hen Rap
We had great fun learning The Little Red Hen Rap. We learnt how to chant in a rhythmical way and used musical instruments to help us keep in time with the beat. We were very good at this and stopped and started playing in all the right places! We tapped, shook, scraped and hit lots of different percussion instruments and made lots of noise!
The Little Badger Bakery!
After reading the story of The Little Red Hen, we decided to see how hard it really is to make some bread ourselves! We worked in groups to follow the recipe, mixing the ingredients and kneading the dough, before baking our rolls in the oven. The classroom smelt delicious!
We hope you enjoyed tasting your bread at home. Now we see why the Little Red Hen wouldn't share hers when the other animals were too lazy to help to make it! It's hard work being bakers but Badger Bakers are the best!
The Little Red Hen
We have been learning the story of Little Red Hen, retelling the traditional tale with super expression and gestures! We thought you might like to take a peek...
Chinese New Year
We had a fantastic time celebrating Chinese New Year on Friday!
We learnt that there are twelve animals in the Chinese Zodiac and that this is the year of the Rat. We were very lucky to have a visit from a Mum from Squirrel class who taught us and the Squirrels an exciting Dragon Dance!
We made fans, dragons, dragon masks and even had a go at writing our names in Chinese script! In the afternoon we got to taste some delicious Chinese food including noodles, seaweed, prawn crackers and fried rice. Some of us even tried to eat with chopsticks!
We also had another visit from a mum from Squirrel class who came in wearing traditional Chinese clothes. She brought in more tasty goodies for us to try, told us about some Chinese New Year traditions, and taught us to say 'Happy New Year'in Cantonese.
And like that, the first term is over!
And what an end to the term it has been! We've been so busy, and below are a few photos to show you just some of the activities we have packed in...
...watching Rumplestiltskin the pantomime, making crowns to wear to Christmas lunch, creating yet more Christmas cards, exploring shape and number through a Christmas theme, turning our 'cave' into an 'igloo' for polar bear adventures, enjoying a disco and a class party, not to mention painting our super, secret gifts (sssh!) and finally creating our Christingles...phew!
We have loved spending time with the children this term. They are a funny, caring, inquisitive and friendly bunch who make every day different - we are certainly never bored in Badgers class!
We wish you all a very happy, safe and relaxing Christmas break and look forward to hearing all about the festivities when the children return to school on Tuesday 7th January. Remember, we love to share the children's achievements from home so please do email in any 'wow' or 'Magical Moments' to our class address:
badgers@holwell.herts.sch.uk
Christmas Cards for the Community
We loved taking part in the Christmas card project, making cards for older people in the local community who may not receive many cards otherwise.
We printed snowmen using various round objects, and then added extra details of carrot noses, buttons and eyes with finger print snowflakes, and of course lashings of obligatory glitter!
Here are just a few of our masterpieces...the cleaners have just about recovered from the glittery tidy up!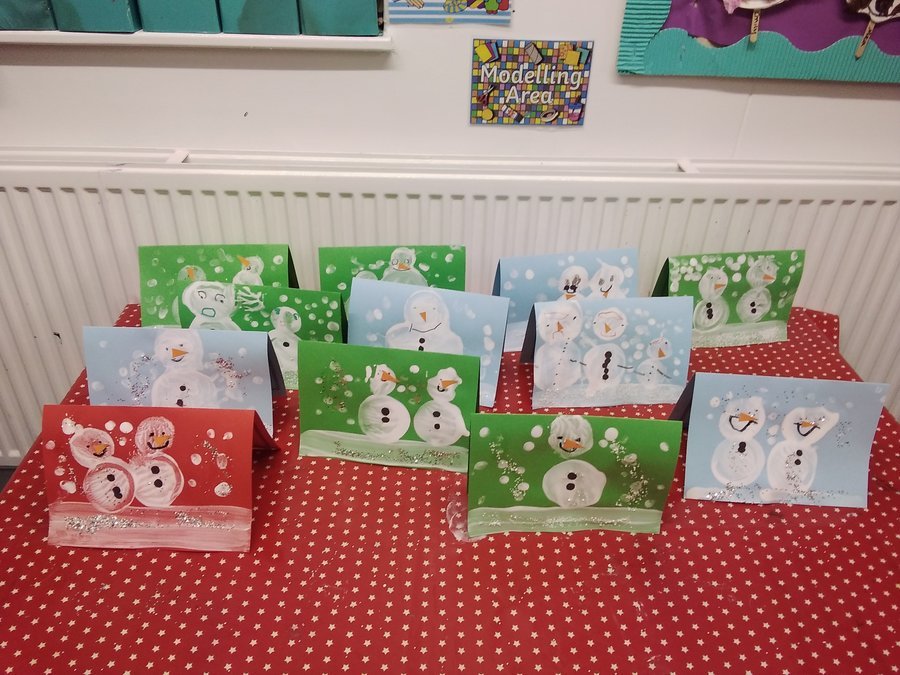 ❄️ A Wintery Wonderland Awaits... ❄️
Santa's elves have all been very busy and a surprise awaits when the children return to school on Tuesday!
Every class has been busy creating decorations to adorn the buildings - in Badgers class we made wonderful, sparkly lolly-stick snowflakes, using sequins, buttons and plenty of glitter! All the children's fantastic work is now spread throughout the school making the whole place feel just a little bit magical...
We're Going on a Bear Hunt!
Did you guess what our next story might be?
Yes, inspired by the children's cave adventures, we decided to focus on Michael Rosen's classic story, We're Going on a Bear hunt. The children have already impressed us with their enthusiastic gestures and expression when retelling the story and came up with lots of ideas for our class story map.
We've been busy creating textured art panels for the different places visited in the story, begun exploring maps and creating our own for treasure hunts around the Reception garden, and making binoculars to take on our trips!
Stories can take you anywhere...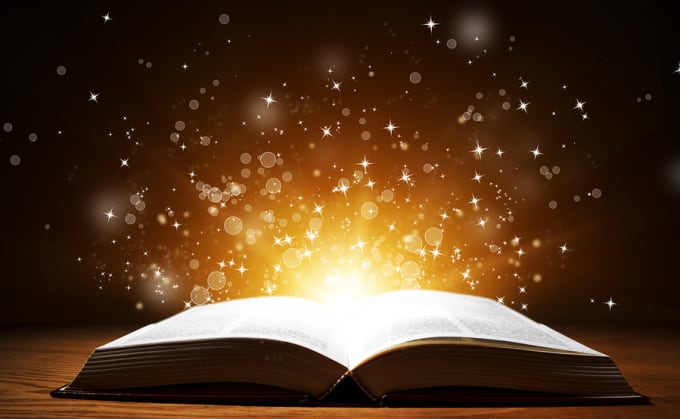 We love stories in Badger class! They can take us on magical adventures in our imaginations, learning about far off places and exciting characters. A love of stories is the first step on the journey to becoming an independent reader. We know that the children who make the best progress in reading are those who not only practise reading themselves, but who regularly share stories with adults. It instills a love of reading that hopefully remains for life!
All of the children now have a school reading book and a class library book to share with you at home. We hope you will enjoy reading these together and ask that you make comments in their reading record so we can see how they are getting on.
Enjoy your shared reading adventures, they really can be quite magical!
NSPCC Sponsored Obstacle Course
Today we had a go on an obstacle course, for our NSPCC sponsored event. We had great fun climbing on the benches, swinging on the ropes and jumping across the mats! We loved it so much that we went around twice!
The Three Little Pigs
This half term we have been learning the story of The Three Little Pigs. We have learnt to retell the story with actions. We had lots of fun making pig and wolf masks to help us act out the story in our play time. We did some print making of the three different houses using lollipop sticks dipped in paint for the straw and stick houses and wooden bricks dipped in paint for the brick house. We have also had a go at blowing down a straw, stick and brick house. The straw and stick house was easy but the brick house was impossible to blow down, even with a hairdryer!! We talked about why bricks are the best material to use for building houses and we looked at houses around the world that are made of different materials such as ice and mud! We helped write a 'Wanted Poster' for the wolf to help the police catch him for trying to eat the three little pigs and we even had a visit from the wolf and got to ask him questions about why he is so greedy and mean! We got him to think about his behaviour and managed to persuade him that chocolate and pasta tastes better than pig!!
Badgers' Class is democratic...
Today we worked together to decide what our new role play area will be after half-term. We first thought up lots of potential ideas (we did draw the line at 'soft play' as an option - the Health & Safety would have been a nightmare!) and then we each had a vote.
The two most popular options were Doctors or a Cave, so we voted again on these and.... Cave came out as top choice! Perhaps this was inspired by yesterday's story session?! So expect lots of talk of cave-dwelling animals, re-tellings of the story and tales of role-play adventures!
Fingers crossed our creative abilities can live up to the expectations...!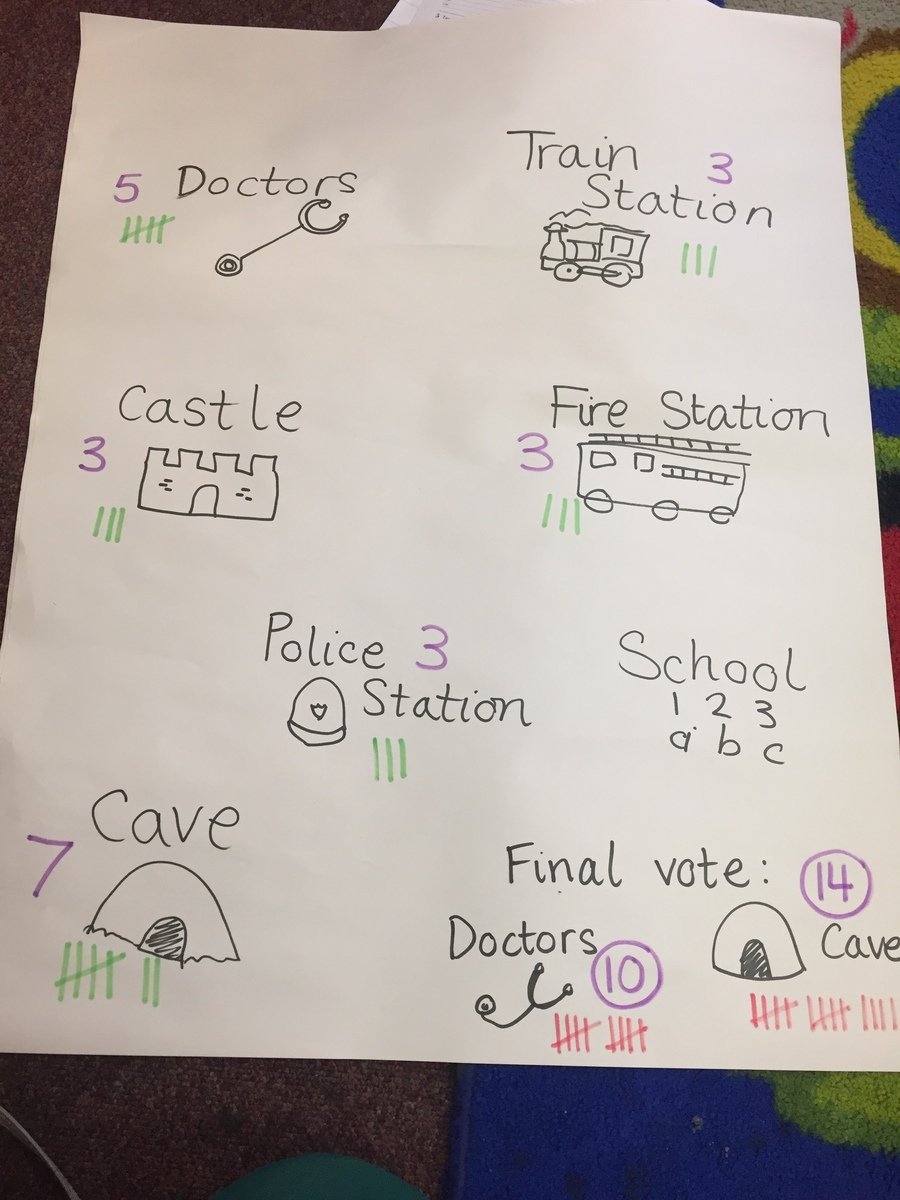 Story Workshop
What a busy afternoon we have had!
We read the story The Cave, by Rob Hodgson, the story of a wolf who waits and waits for a little creature to leave its home, only to discover it's a... (we couldn't possibly say, you'll have to read it to find out!).
We then did four different activities around the classroom that helped us explore the story: we painted the characters and scenery from the story; explored a feely-box cave, using descriptive language to explain what we could feel; used our phonic knowledge to sort pictures of objects by their initial sound; and created stick puppets that we can use to retell the story at home. We also enjoyed a little tasty treat...for educational purposes of course!
Every child took home their Time to Read book pack from the Book Trust - we hope you will enjoy sharing it at home!
Thank you to all the parents who came and joined in their session - your help was invaluable and allowed us to make the most of the afternoon with all those extra pairs of hands! Here are just a few photos of the fun we had...
Harvest Assembly
We were super proud of our Badgers on Monday, taking part in their first big event, Harvest Festival, in the hall with the rest of Reception and Key Stage One. They sang beautifully, remembered all the actions and sat very nicely and quietly to listen to the older children.
Thank you to all the parents who attended, we hope you enjoyed it, and do not worry if you couldn't come this time, there will be plenty more opportunities throughout the year. Unfortunately we could not take any photos during the assembly, but hopefully your child has told you all about it!
Bulb Planting
We took part in the first of our WGC Centenary celebrations by planting lots of bulbs that will bloom next Spring. We wore gardening gloves and used trowels to dig holes, before each planting two bulbs. We can't wait to see the beautiful flowers!
Nature Detectives!
We encourage the children to take a keen interest in the world around them. As summer departs, there are lots of signs that autumn is here, so we would like the children to keep their eyes peeled on their journeys to and from school for any conkers, seeds, acorns, leaves etc that they find! This 'evidence' can be brought in and put on the investigation table for closer inspection!
Equally, we would welcome any photographs of autumnal scenes or family walks. These can be emailed to badgers@holwell.herts.sch.uk. Thank you for your support in this.
Turn on the TV!
Yes, you read that correctly! While we do not advocate endless hours of television, we know that it has its plus points too...especially after a long day at school when your child is feeling tired! There are lots of educational based programmes, which, when watched moderately with a parent (to help explain any tricky bits), can help children grasp concepts or revisit learning they have been doing in school. We sometimes use clips or short programmes in school to reinforce learning.
At the moment, we are focusing on the numbers one to ten in maths sessions with the children. Some of the children are already very confident with counting and recognising numbers, other less so, but everyone has learnt something new - whether it is the numeral formation, counting amounts carefully, placing numbers in the correct order on a number line or using tally marks to record numbers.
We have been watching Numberblocks in class, a maths-based programme from Cbeebies, to support our maths learning. If you have not watched it before it is well-worth a look with your child, though it comes with a warning...the songs are very catchy and we can't promise they won't get stuck in your head!
Crunching Through the Leaves
We have been learning a song called Crunching Through the Leaves as we start to think about Autumn.
The children are such brilliant singers and have learnt the actions so well that we thought you would like a sneaky peak!
We have had a super first couple of weeks!
As you can see from the photos below, the Badgers have all been busy, busy finding their way around the classroom and trying out lots of the toys and activities.
Colour Groups
You will have hopefully seen the class colour groups displayed on the classroom door showing you which group your child is in.
Starting Monday 16th September, parents and carers are invited in at the start of the day from 8.45am. You will be able to see what we've been doing in class and see the classroom in action. Adults will be asked to leave just before 9am. The children love to show you their morning routine and share their learning with you, so please come along if you can.
Remember, you will be entering a working classroom so please no mobile phones or photos.
Monday - Adults of children in RED group
Tuesday - ... in YELLOW group
Wednesday - ... in GREEN group
Thursday - ... in BLUE group
Friday - ... in PURPLE group
A little reminder...
Please can we remind all parents and carers that drinks bottles should be filled with water only please. This is for a number of reasons, not least that if squash is spilt it can be sticky! All water bottles should be named clearly - we always have a permanent pen to hand if you discover the name has washed off, just let the adult on the door know.
If you have any questions or concerns please speak to us.
P.E. Sessions
We have our P.E. sessions on Friday mornings - our first will be this week, Friday 13th! Let's hope it's lucky for all!
The children change for P.E. in small groups with an adult and we try our hardest to make sure everyone comes home in the correct clothes, all facing the right way! Please support us with this by continuing to practise with your child at home, especially those tricky buttons on t shirts and fastenings on trousers. The adults will of course help when needed, but we try to encourage the children to be as independent as possible.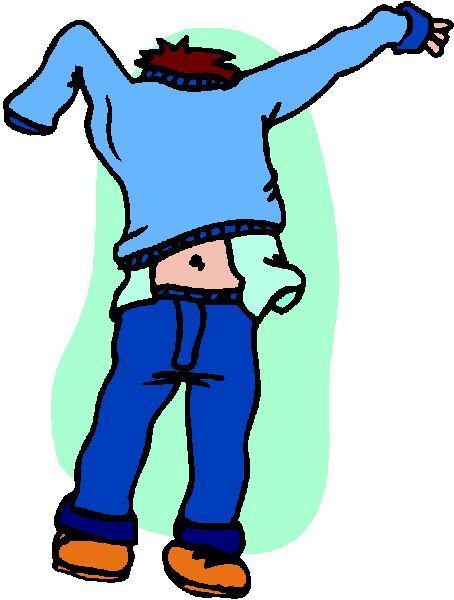 Numicon
We use Numicon in our maths sessions, a brilliant resource which helps the children to gain a really good understanding of number. An example number line is below so that you know what your child is talking about if they come home mentioning Numicon...or unicorns as some of them have been referring to it!
Home-School Exchange- What you can do
The Home- school exchange about your child's learning is very important at this stage in your child's development. Please keep us updated on the latest medical information, worries or struggles your child encounters at home as we will inform you should they arise.
We also love to celebrate achievements. We invite you to share any 'magical moments' for us to print out to add to your child's learning journey by email. Please title your email with: Name of child Magical moment and send to badgers@holwell.herts.sch.uk Please note this email address is only set up for the receipt of magical moments and will not be replied to for any other issues.
A magical moment may include photos and are significant achievements or skills you have observed your child do, or may sometimes include special events or outings. Useful magical moments could be based on- imaginative play, your child's observations of the natural world on an outing, solving problems, their physical development, sporting talent or challenges overcome- dressing themselves, reading or writing for example. Please write about what you observed and what your child said that was significant. We cannot use photos without descriptions. We ask that you send in one magical moment every half term, we also have paper templates for magical moments available at school if you would prefer to hand-write them. When we receive them we ask if the child would like us to share their achievements with the class, and the children really love to show their friends their magical moment photos when printed out or on the Interactive Whiteboard screen.