Hello Leeds and York class
Unfortunately we cannot see you at school at the moment. However we are all excited and looking forward to seeing your fantastic learning from home. We will add a new page to the website each day, with learning opportunities and activities to complete. The Early Years team will be in touch with you by phone and email, so please do not worry. Additionally we will email you individual targets for your child that we would like them to focus on.
We would love to see your learning so please show us by sending pictures and comments to your child's class email. If you have any questions please do not hesitate to email us and we will respond as quickly as possible.
Leeds class: recleeds@holwell.herts.sch.uk
York class: recyork@holwell.herts.sch.uk
Remember to stay safe and keep smiling, you are all brilliant!
We will see you very soon, keep in touch.
The Early Years team.
Miss Ryan tells the story of 'We're going on a bear hunt' from her back garden! After watching the video can you retell the story on your own? Gather some objects from around your home to help you such as a bowl of water for the river. You can email in a short clip or photo of your child retelling the story. Please write in the email some of the exact words they used when retelling. We can't wait to see them!
Topic 'Celebrations'
Our topic work has been based on 'Celebrations'. Last week we discussed fireworks and bonfire night. The children created wonderful pictures using all different techniques.
This week our celebrations will be Remembrance Day and Diwali. You may have seen the 2 minute silence on the television on Sunday. Ask your grownup what this was about. We will learn more about this tomorrow and Wednesday.
Later in the week we will be looking at the Hindu festival Diwali. In our classes we were also busy preparing for learn about the celebration of Diwali and had already begun changing our role play into a temple. Here is a photo of it.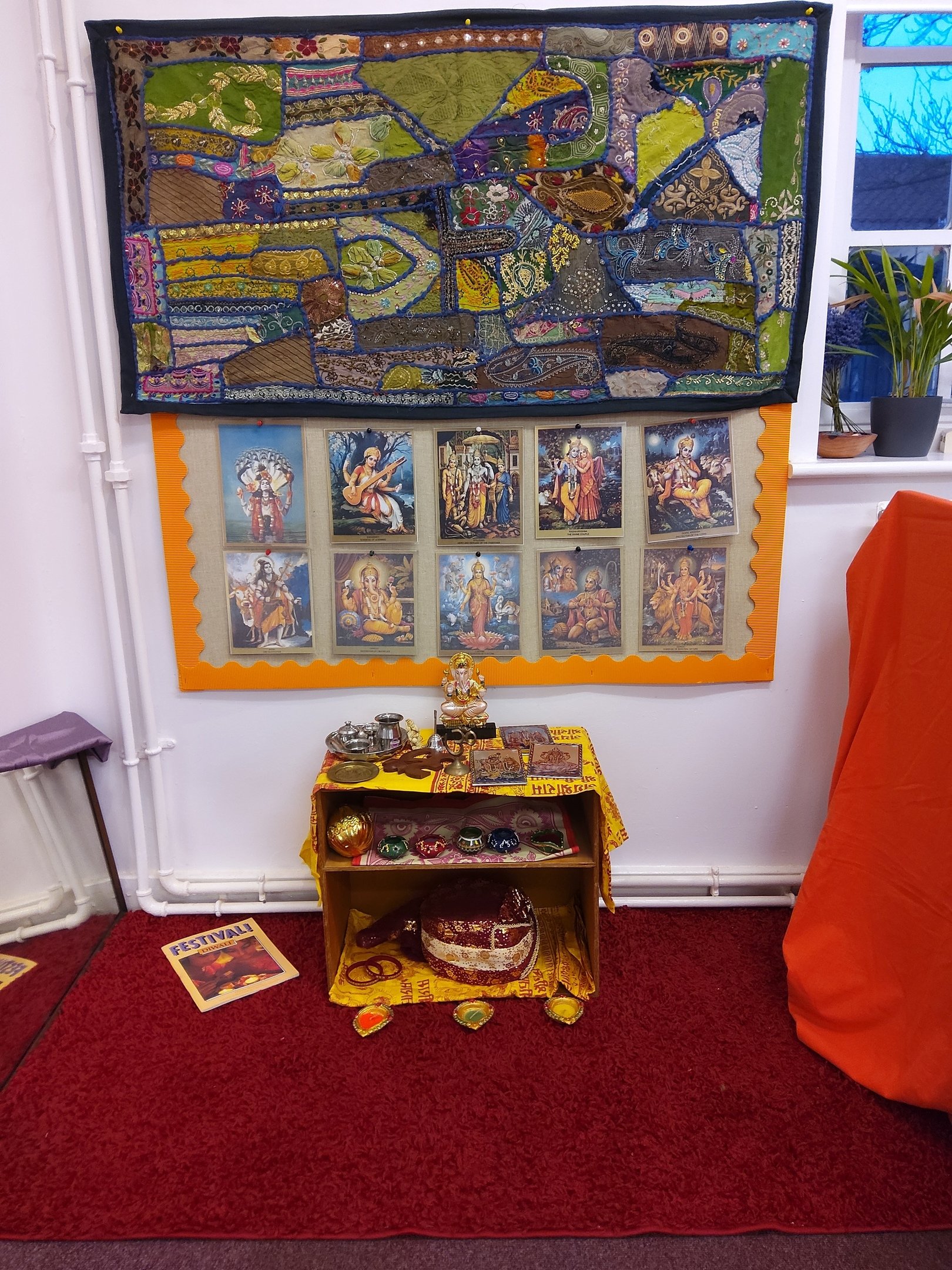 Today ask your parent to help you gather 3 facts about Remembrance Day and 3 facts about Diwali. You will need these for later in the week.
Phonics
We are so proud of all of the children during our phonics sessions, they all show engagement and are excited to learn a new sound each day. As well as practising the sounds, we have started to blend words together to read them.
Please recap daily on all sounds we have learnt so far: s a t p i n m d g o c k ck e u r. Remember to include the new sounds learnt this week.
Today we have a new phoneme to learn which is 'h' please watch the phonic session video below. You will need a piece of paper and a pencil. It works best if you watch the video with your child and join in. It is only short. Do not worry if your child cannot repeat the sounds quick enough, is not able to write the sound or does not recognise the words. All children learn at different speeds and practise and familiarity will help with this. Children love watching the same video again so please let them watch it again if they wish.
Once you watched have watched the videos practise writing the sound down on paper. Write it 10 times.
Draw a picture of a helicopter, horse and a house. Colour it and write 'h' underneath it.
Can you build a model of a house (out of Lego or a cereal box) and decorate it with 'h'?
Maths
In our maths we will be continuing our work on counting.
Get your child to gather some objects up to 10 of them. They can count by touching them one at a time rehearsing the number names in the correct order. They have been shown how to reorder the objects into a familiar pattern in order to make the counting easier. They will generally put the objects in a line and count them saying the next number as they tap each object. Repeat this several times. Take every opportunity that presents itself to help them with counting. This may be when laying the table at dinner time or by counting out pasta from a jar.
Can your child show you how many they have counted using their fingers?
Have a try at counting these pictures below.
How many fireworks are there?
How many poppies are there?
How many purple poppies are there?
You may like to watch this episode of numberblocks below which focuses on counting.
PSED (Personal, Social and Emotional Development).
On Friday we discussed things that we are good at. Can you share with your family member things that you are good at and draw a picture? We would love to see them, please send these to your child's class email. Please type a comment of what your child says and exactly how they say it. We will put some of their responses below...
Leeds class:
York class:
Yoga
Yoga can support your child's strength and co-ordination. More importantly it can reduce children's anxiety and promote calmness. This can be a whole family activity, we hope you enjoy doing yoga as much as Leeds and York class do! Cosmickids have many yoga videos that the whole family can join in with.
Below is- 'We're Going on a Bear Hunt'.
We often do yoga in class with CosmicKids, so your child will be familiar with these.
Enjoy!