Tuesday 17th November Remote Learning
Hello Leeds and York class
Not long now until we will see you again! Two more sleeps and you will be able to see all of the Early Years team and your friends again. We can't wait to see you!
Remember as well as the activities on this page you can log onto Purplemash and Numbots, as well as focusing on your individual targets for phonics and fine motor skills that have been emailed to you. Please send in all of the learning you have been doing to your class email address:
Leeds class: recleeds@holwell.herts.sch.uk
York class: recyork@holwell.herts.sch.uk
Keep going with your super learning, you are all so brilliant.
The Early Years Team.
And the winners are...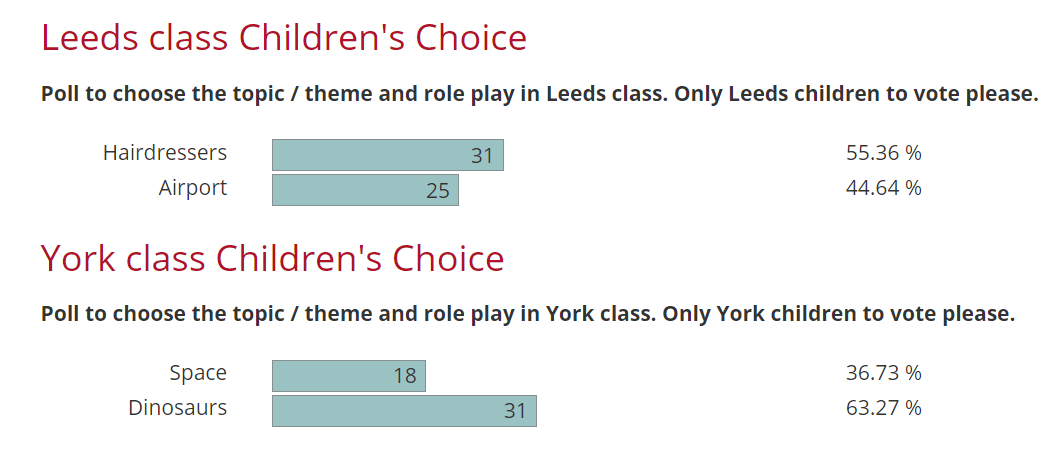 Anti-bullying week
This week is anti-bullying week. Talk to your children about being kind. Can you draw a picture of how you are kind to others? It is very important to be kind to everyone. After your child draws their picture write down exactly what they say. Questions to ask - what kind things do you do? Why is it important to be kind?
Yesterday some of you sent in pictures of you wearing odd socks, the Early Years Team joined in too. Wearing odd socks supports Anti-bullying week and teaches us that we are all different and that it is ok to be different.Tomorrow we will make a slideshow on the website of you wearing your odd socks. If you would like to join in email your picture to your class email address:
Leeds class: recleeds@holwell.herts.sch.uk
York class: recyork@holwell.herts.sch.uk
Story of the day
Mrs Smith reads 'A new home for tiger' by Joan Stimson. Listen to the story carefully and then answer the following questions:
What was tiger good at?

How did tiger feel about moving home?

Why did 'home' not feel like like 'home' when he went back to his old house by himself?

Have any of you moved to a different house? How did you feel?
Activities to do at home:
Can you build a new home for tiger? What will you use to build a home for him? Use your imaginations! Is his home going to be tall/short long/ short?

If you have moved house how did it make you feel and why? Draw a picture of how you felt and ask an adult to write exactly what you say.

What do you like about your home? Draw a picture and send it into us. Adult's please write underneath exactly what your child says.

Can you find out 3 facts about tigers?

Can you draw a tiger family? Think about the sizes of the tigers you draw. Which tiger will be the longest and which tiger will be the shortest?
Phonics
Which diagraph did we learn yesterday? That's right we learnt the diagraph 'ff' yesterday. A diagraph is two letters that make one sound. For example we don't say 'f' 'f' separately we say 'ff' it is a long sound.
Today we are learning the sound 'll' which is another diagraph. Please watch the video below, remember you will need a piece of paper and a pen/pencil.
After you have watched the video, please complete the following activities:
Write down the 'll' sound 10 times.

Scribe 'll' with your finger in the air, really small on the floor, really big on the floor, small in the air. Make a long 'll' make a short 'll'.

The 'ff' and 'll' diagraphs are usually in the middle or at the end of a word. Can you sort the words below into real and nonsense words:

ball rall sniff sell off tell doff till

Draw a picture of something with the 'll' sound in, label your picture. An adult might need to write the word for you and you can try to copy underneath. See if you can hear the initial sound in the word- the initial sound is the sound at the beginning of the word.
Maths
Can you remember what we are learning about in maths? That's correct we are learning about measure. Ms Hardy showed us how to measure yesterday. Can you remember how we measure? We start from the bottom and make sure we are in line with the other object we are measuring against. If you are unsure you can look back at yesterday's learning page to watch the video again. Did you find any objects around your home to compare which is longer and which is shorter?
The video below shows how you might use different objects to measure e.g you might use cubes or pencils to measure a toy. These cubes/ pencils or whatever you choose to measure with must be the same size to make it a correct measurement. Remember to start from the bottom and make sure you are in line with the object you are measuring. E.g you might measure your toy with the same sized crayons, you could then say "My toy is ten pens tall". You might measure another toy "This toy is only 4 pens tall.. that means it is shorter than my other toy".
Activities you can do at home:
Draw around your hand then draw around your family member's hand. Measure each hand with an object e.g cubes or crayons, how many cubes/crayons is your hand? remember to use the same sized object that you measure with. Remember to link your objects. How many cubes long is your hand? How many cubes long is your family member's hands? Whose hand is longer/shorter? Maybe you can measure your whole family members hands or feet!

Measure objects around your home with pens/crayons/cubes - compare one object with another. Remember to use the same sized pens/crayons/cubes to measure with and link them together so there are no gaps.

Make different caterpillars/snakes out of playdough and compare their lengths. Put them in order of size. Then can you make a train of linked crayons/pencils or another object the same size as the snakes/caterpillars.

Try this game which focuses on measure, spot the longest, shortest, smallest and tallest objects

: https://www.topmarks.co.uk/early-years/lets-compare
Decorations for our outdoor area
Reception we need your help! We know how much you all love being creative. Can you help to make our outdoor classroom look beautiful? We would love you to create something for our garden. This could be decorating some pebbles as minibeasts, making a wind chime, bead and pine cone mobiles or any other great creations that you can think of. We can't wait to see your fantastic creations.
Mindfulness
Mindfulness is a calming activity which can support children to focus, reduce anxiety and to regulate their emotions. Today's Cosmi cKids video is 'Why are some people mean' as it is Anti-bullying week. Watch the video below and answer the following questions.
Why is it important not to be mean?

Even if someone is mean to you should you be mean back or be mean to someone else?

How does it make someone feel if you are mean?

How do you feel if someone is mean to you?